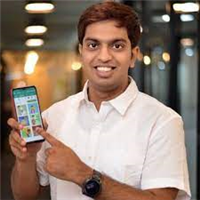 Ankit Prasad - Bobble AI
Ankit Prasad - Bobble AI
07 Jun 2021
I am the Founder & CEO of the world's first Conversation Media Platform - Bobble AI, enhancing smartphone conversations while making them expressive, personal and intelligent with innovations around typing, languages, content, voice, and camera; all innovations bundled into our patent-pending keyboard technology. We are proud to have created the most engaging, most retaining and highest-rated keyboard technology in the world.


For promising calibre and distinct entrepreneurial successes, I have been honoured in Fortune India 40 Under 40 list in 2021 and Forbes Asia 30 Under 30 list in 2018 amongst a few other popular millennials. I have also been recognized by Impact Digital in their Technology Power 100 list in 2020, BW Business World India 40 under 40 list n 2019, and 50 fabulous innovative leaders in 2020. I am also a recognized TEDx Youth Speaker.

We were invited to London by The High Commission of India in the UK for a week-long trade mission in September 2019, after qualifying as one of the cohort members of the FICCI sponsored techXchange 2019 programme. The visit was fruitful, during which we met many prospective businesses, potential ecosystem partners and UK government agencies.

Having achieved reasonable success in the OEM (original equipment manufacturer) domain especially after a significant breakthrough with XIAOMI Inc. as one of the strategic distribution partners for our smartphone keyboard app, we were keen to explore the potential of our keyboard technology in other prominent sectors. While we had a broad idea of what we were looking for, we were still in the process of formulating our development strategy.

During one of the networking events in London organized by techXchange, we met the Lemon Advisors UK team. Though our interaction during the event was brief, they did leave quite an impression on us.

We continued our conversations with Lemon Advisors beyond the London trip, and every discussion with the team helped us bring more clarity to our international business development plan. Our plans required the support of an organisation with in-depth access to decision-makers across industry sectors like telecom, BFSI and media, and Lemon Advisors was an ideal organisation to provide that capability.

As a result, in December 2019, we appointed Lemon Advisors UK as our advisory partner for global expansion. During the 18 months of our association, we have built up some great business relationships, partnered with a large technology company like HCL Technologies to open up a wide range of enterprise customers for our conversational banking business. We also acquired a few large telco brands like Hutch Sri Lanka and Indosat Ooredoo as customers, giving us access to 75 million mobile subscribers.

I would like to categorically state that Lemon Advisors played a crucial role in many such achievements. During these 18 months, Bobble AI has progressed significantly, and Lemon Advisors has helped us in building these relationships as well as in opening doors to newer opportunities.

Our best wishes to the team at Lemon Advisors UK on their successful journey ahead.